Singapore Airlines and Tata Sons agree to merge Air India and Vistara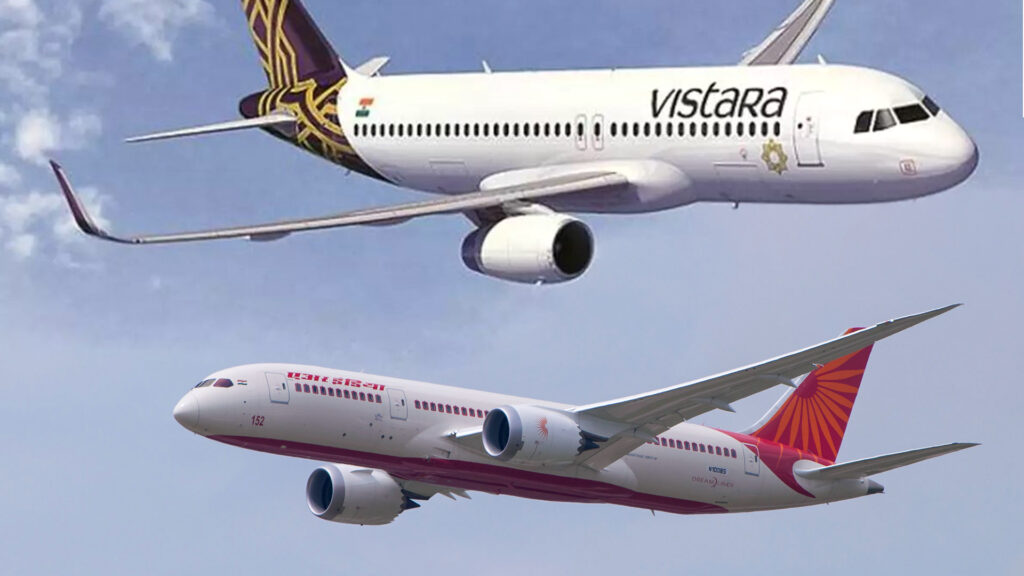 Singapore Airlines and Tata Sons have agreed to merge Air India and Vistara (by March 2024) to create one of the leading airlines in the world's fastest-growing economy. With this agreement, Singapore Airlines will reinforce its ties with Tata and strengthen its presence in India. Having a stake in the enlarged Air India will strengthen Singapore Airline's multi-hub strategy. Singapore Airlines plans to deepen relationships with Tata and intends to participate in a new growth phase in India's aviation market.
This announcement would make Air India the country's leading domestic and international carrier with a combined fleet of 218 aircrafts which would make it India's largest international carrier and second largest domestic carrier.
Fully owned by Tata Sons, Air India has been the flag carrier of India. Vistara which is owned by Tata Sons and Singapore Airline as joint venture, is the country's leading full-service carrier with international operations in the Middle East, Asia, and Europe.
As per a report from Tata, it is said that Singapore Airlines is going to invest Rs. 2,059 crores in Air India. This transaction is estimated to be completed by March 2024.
Air India intends to grow its network and fleet, revamping its customer proposition, enhancing safety, reliability, and on-time performance once again. With this, Air India will provide both full-cost service and low-cost service across domestic and international routes.
About Vistara (Tata SIA Airlines Limited)
Singapore Airlines had setup Vistara in the years 2013 and thereafter, it became a full-service carrier which won many global accolades in a short time span.
Vistara was started intending to provide the finest full-service flying experience in India. The airline has 53 aircrafts to its fleet which includes forty-one Airbus A320, five Airbus A321 neo, five Boeing 737-800NG and two Boeing 787-9 Dreamliner aircraft.
Singapore Airlines hold a 49 per cent stake in Vistara while the rest 51 per cent is owned by Tata. Also, Tata own Air India (acquired from the Government on 27th January, 2022) including its low-cost carriers Air India Express and AirAsia India
Impact that will be created in the logistics industry after the merger:
Vistara is India's widely recognised leading full-service air carrier having significant operational capabilities, a good customer base, and have a strong focus on customer service and product excellence. Singapore Airlines said that Air India (which also includes Air India Express and AirAsia India) and Vistara have a total of 218 wide-bodies and narrowbody aircraft, and serves 38 international and 52 domestic destinations. With the merger which will happen in 2024, Air India will be the only Indian airline group to operate both full-service and low-cost passenger services.
With increased domestic and international routes and with the increased number of aircrafts, the merger will significantly help the logistics industry to provide airfreight services to the domestic and global market. The new air networks and increased number of flights Air India will have after the merger will help the logistics industry to provide increased airfreight services and will effectively be able to transport commercial cargo to different destinations across the globe.