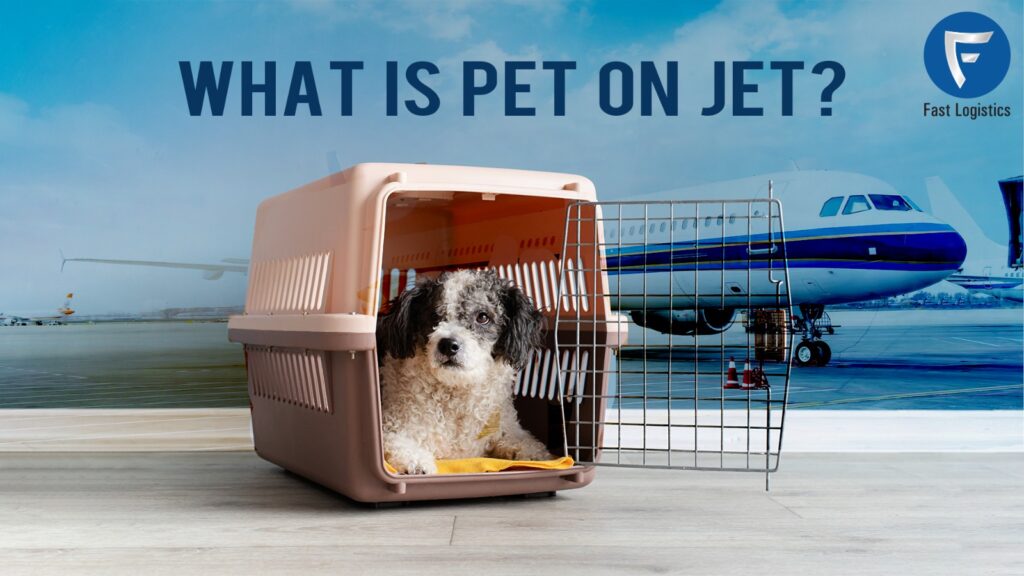 What is Pet on Jet?
Pet on Jet is transporting pet animals at an industrial level and the ideal means of pet transport is by air. Pets are shipped for various different reasons – generally for relocating families but also for animal performance events like dog shows. The body that controls pet shipping regulations at a global level is the International Pet and Animal Transportation Association. There are certain rules and documents required to be adhered to when in need for pet transport interstate and pet transport international. Some countries also ban specific animals from setting a foot in their boundaries. Let's find out more …..
Process for Pet Logistics
Pets are carried on passenger air crafts with proper precautions either in check-in baggage or onboard. Those shipped as checked baggage are kept in the climate control sections of the cargo hold.
Once the documentation and customs are dispensed by the owner at the AQ office and the pet goes through a physical examination and NOC certificate is to be collected.
They are placed in a carrier that should be approved by the International Air Transportation Association and transferred to an animal-specific baggage handling area.
After the bill is submitted, the Baggage managers strap the animal crates in place and wrap them with perforated air cushion rolls. The animals are the last and first baggage to board and disembark from the plane to meet the criteria set by the 'Animal Welfare Act' that states airlines mustn't travel with animals in extreme hot or cold temperatures to avoid health risks to the animals.
Pet carriers are not accessible to the cabin crew throughout the flight duration. When the flights land, pets are securely unloaded primo and dispatched to their destinations.
Livestock / Pet On Jet Shipment Done by Fast Logistics | Domestic Cat | India to Johannesburg
Requirements for Pet Shipment
Carrier – As stated above the carriers is to be approved by the International Air Transportation Association and requires the carrier to be sizable enough for the animal to sit, stand and lay down comfortably.
14% of the carrier must be open for ventilation with a protective shelter and handles for carrying.
A label with owner's identity and arrow indicator for placement direction should be stuck on. Food, medication (if required), and water should be travelling with the crate.
Documentation for Pet shipment
The listed documents should be cleared by the pet owners before boarding the animals.
1. Original and updated Veterinary Health Certificate Original Vaccination Card/Pet
2. Original certificate of Rabies Blood test (result must be 0.5 IU/ml and above
3. Health/VET Certificate Copy (on availability/vary to each origin/Destination)
4. PET Passport Copy or Vaccination certificates (As applicable)
5. Copy of Import Permit at Destination (As applicable)
6. Copy of Export Permit from Origin (As applicable)
7. CITES Certificates (where applicable)
8. Copy of Vaccination Certificate/vaccination Card
9. Name / AVI Date of Birth/ breed/ color
10. Micro Chip/Tattoo Number
11. Last Rabies Vaccine date
12. All pets entering UAE must have a tick and tapeworm treatment certificate.
13. Pictures of the container for Domestic pets (with DIMS & Pictures from all 04 angles)
14. Owner acknowledgement form- pls get this filled up and send us.
15. In accordance with LAR (CBSA Food Plant Animal Control) must have a Valid Health Certificate and Rabies vaccination certificate.
16. Consignee contact details (Name/Street name / City / Province Code / Postal Code)
Safety and Statistics for Pet Shipment
The International Air Transport Association covers 93% of scheduled international flights. It sets standards for the transportation of live animals globally under the 'Live Animal Regulation Act'. It provides safety for pet shipping and practices humane treatment of animals.
Pet shipping has increased in the 21st century and the contributing factors are the global increase of ownership and increase of animal domestication costs. Around 2 million domestic animals board the commercial flights yearly. 58% of them are dogs and 22% are cats alongside rabbits, hamsters, birds, guinea pigs, and mice.