Overland transport is a cumulation of two major modes of transport: Road freight and Rail freight. These two overland freight sectors are sometimes collaborators and sometimes rivals. Overland logistics is one of the widely used means of transportation in supply chain management as it is economical, has a greater reach towards remote and urban areas and has an easier distribution scale. Overland carriage is an integral part of any type of transport, be it by sea or air. While we tend to pay more attention to the main leg of the transport (the part of a journey that takes up the most time), the overland carriage to the port by road or rail plays a very important role as well. We'll discuss more about its benefits and categories in this article.
Types of Overland Transport
Products can be transported by different types of transport such as trucks, railroads, vans, cars, motorcycles, and even bicycles or scooters. However, we will be taking into consideration the two major modes of transport i.e. Rail freight and Truck freight.
Both means have their strengths and weaknesses. Truck transport is less expensive, yet more polluting than rail transport. The latter is better-suited to non-bulk, light or disparate deliveries.
Rail Freight Logistics
A freight train, cargo train or goods train transports cargo all or some of the way between the shipper and the intended destination as part of the logistics chain. Trains may haul bulk material, intermodal containers, general freight, or specialized freight in purpose-designed cars. Rail freight economies and practices very by country and region.
When considering terms of ton – kilometers hauled per unit of energy consumed, rail transport can be more efficient than other means of transportation. Maximum economies are typically realized with bulk commodities like coal, which are specially hauled over long distances.
Truck Freight Logistics
Overland transport providers generally use trucks as their main form of transport. They are economical and have a wide distribution area including remote regions. Usually companies prefer road shipments when it comes to short and easily accessible connections in different configuration such as Open Truck, Fully Covered Body Trucks, Normal Trucks, Tempo Truck etc.
When a company decides to use land transport, it is customary to make a distinction between "loose goods" and "full load" before deciding which solution to adopt. "Bulk goods" means the possibility of booking spaces for one or more pallets on a truck carriage. This allows you to split the shipping costs with other companies that have also purchased that space. There are two distinctions in truck freights namely Full truck load and less than truck load.
Full Truck Load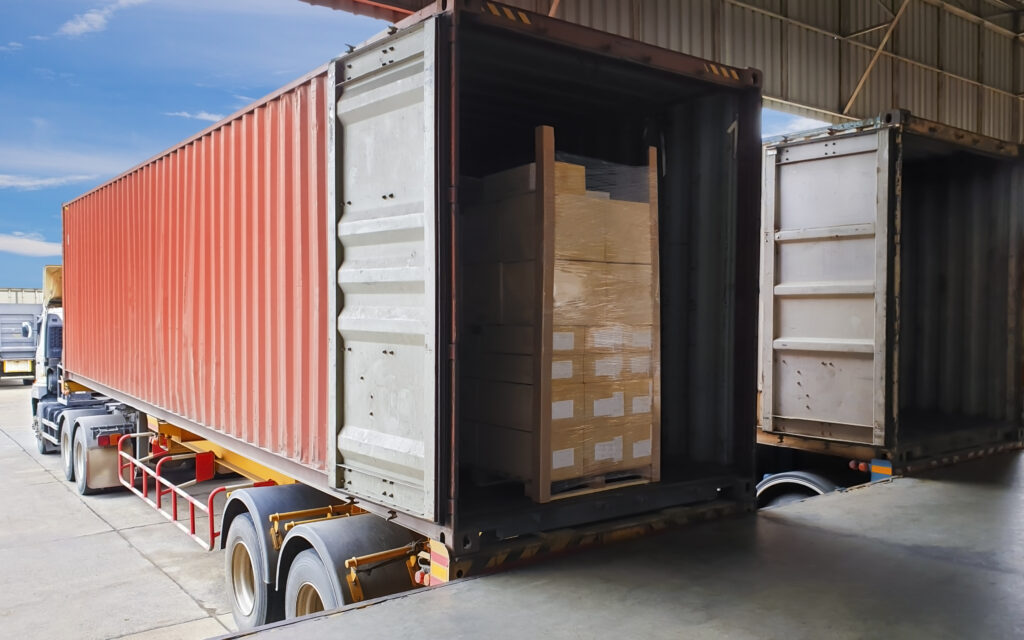 Full truckload is also known by the acronym FTL. What is a full truckload? When a single, dedicated truck is used to haul a specific cargo, it is called an FTL. This is usually the case when a shipper must send goods to his customer or another location and the volume is large enough to fill a truckload.
Typically, FTL is the transportation of a single type of good by truck. Full truckload service is also used in cases where the shipper has more than one type of good to transport, but they are safe to be transported together.
Less Truck Load
Less-than Truck Load (LTL), on the other hand, is the transport of several smaller shipments by a container. In this case, the freight operator consolidates several LTL shipments from different shippers to fill a container.
Multiple shippers share the space inside a container to save on cost or when the weight of their cargo is much less than the weight-bearing capacity of a full truck. LTL freight is used when the space of the full truck is not needed for the transport of a shipment.
Documents Required
Application letter for Carnet with total detail of travelling.
Driving License copy and alternate Id proof of applicant.
Registration copies of Vehicle Owner.
Passport scan colour copy of Carnet applicant.
Vehicle Photographs.
Valid Insurance copy of the vehicle.
Membership of WIAA.
A list of spare parts/tools and their value
If vehicle is registered on some other name, then NOC letter required on Letter head with respective photo id Proof and self-attested documents.
Statistics
Road freight transport in China now has the fiscal wherewithal to invest in modern transportation technology and build railways and roads to link its west to the oceans.
Road freight transport in Turkey has been increasing steadily. Between 2006 and 2016, freight volume had grown by 39 percent, amounting to nearly 317.5 billion tonne-kilometres in 2016.
Road freight in India accounts for about 60% of freight traffic movement in the country.
Road freight transport in African countries might expand by about $250 billion over 15 years.
Road freight transport GVA in Saudi Arabia recorded a CAGR of 8.1%, from US$14.2bn in 2012 to US$20.9bn in 2017.
For any kind of transport of goods and substances, it is essential to have a good logistics provider and operator. Fast Logistics Cargo's overland transportation services are customized to deliver reliable and on-time solutions – every time. Our exhaustive fleet of vehicles are available 24/7/365, and guarantees the quickest turnaround times to meet our customers' business requirements.
Contact us now, for better logistic solutions.